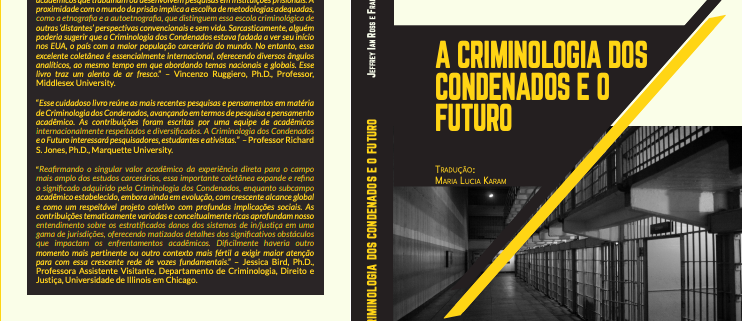 CONVICT CRIMINOLOGY FOR THE FUTURE translated into Portuguese & published as A CRIMINOLOGIA DOS CONDENADOS E O FUTURO
This week Francesca Vianello's (University of Padua) and my edited book Convict Criminology for the Future was published as A Criminologia dos Condenados E O Futuro, by Brazilian publisher Tirant Lo Branch. During this process, not only were we significantly assisted by respected Brazilian Criminologist Dr. Maria Lucia Karam, who graciously and masterfully translated the book into Portuguese, but Dr. Sacha Darke of Westminster University, and Aline Gostinski, Editor, Tirant Lo Blanch helped us too.
By way of background, Convict Criminology for the Future, published earlier this year by Routledge, had its origins in a two day conference that was held in May/June 2019 at the University of Padua. We are grateful to our contributors who produced excellent chapters.
Now that the book has been translated into Portuguese, A Criminologia dos Condenados E O Futuro, will be most useful to Portuguese speaking students and scholars of criminology/criminal justice and corrections, journalists, prison activists, and relevant policy makers, legislators, and practitioners (i.e., especially individuals who work in correctional facilities) or those who are incarcerated.
Among the ten countries where Portuguese is the principle language, the book may find its greatest utility in Brazil and Portugal, countries that have some of the highest numbers of people who are incarcerated.
In general, the Brazilian and Portuguese prisons are a study in contrasts. In Portugal (with a prison population of 11,463, and ranked approximately 137 in number of prisoners per 100,000 population), largely because the country is part of the European Economic Union, the correctional institutions are generally safe, there are rehabilitative programs in place, and overall the treatment is humane.
The Brazilian prison system, on the other hand, (with 759,518 people incarcerated, and ranked approximately 19th in number of prisoners per 100,000 population), is the third largest in terms of number of people incarcerated (just behind the United States and the Peoples Republic of China). Inmates experience routine violence, crowding and overcrowding, and occasional riots happen in many Brazilian correctional facilities. Brazilian prisons are typically understaffed, have poor food and health care. Many of the detainees have been swept up in the Brazilian state's war on drugs.
And many of the people who are incarcerated in the Brazilian prison system are awaiting trial. For one reason or another, they do not have legal representation, so they are in prison until their day in court. Some of them are just languishing in the correctional facilities, way past the date they were supposed to be released.
Over the past decade a number of Brazilian criminologists and lawyers have been introduced to Convict Criminology scholarship and pedagogy. And it's our hope that A Criminologia dos Condenados E O Futuro, will be useful for them.
We also hope that the translation of our book into Portuguese will increase discussions regarding not just the role of convicts and exconvicts in the scholarly study of Criminology/Criminal Justice, including much needed reforms, but it will serve as a catalyst to greater cross-national co-operation in addressing the challenges faced by individuals who are incarcerated seeking to pursue post graduate studies behind bars and upon exit.
https://jeffreyianross.com/wp-content/uploads/Screen-Shot-2021-11-25-at-11.18.54-AM.png
494
742
Jeffrey Ian Ross
https://jeffreyianross.com/wp-content/uploads/jeffrey-ian-ross-logo-04.png
Jeffrey Ian Ross
2021-11-25 16:38:18
2023-03-07 18:38:29
CONVICT CRIMINOLOGY FOR THE FUTURE translated into Portuguese & published as A CRIMINOLOGIA DOS CONDENADOS E O FUTURO