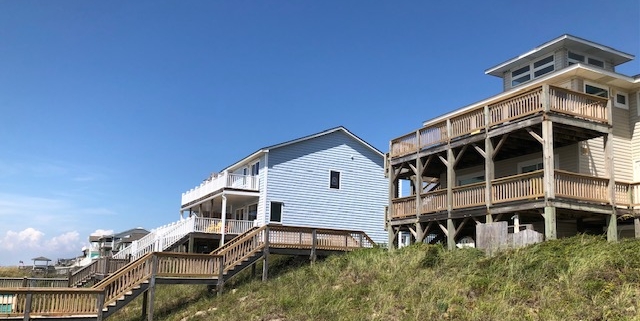 Why do most East Coast beach towns in the United States seem the same?
During the summer, many Americans trundle off with friends, family (and dog), or both to visit, spend time or relax at popular East Coast beach towns. If you participate in or witness this annual ritual you may eventually notice that there is a significant amount of homogeneity, predictability, redundancy and eventual monotony in the towns, restaurants, houses, and people who vacation there. In fact, from the Jersey Shore down to the Florida Keys, from Ocean City, MD, Kitty Hawk, NC or Pawleys Island, SC most beach towns look pretty much the same.
How so? The towns have small alcohol, grocery, pharmacy, and book stores and supermarkets like Food Lion, Piggly Wiggly and Publix. Other stores sell beach related items like balls, boogie boards, swim suits, sunglasses, towels, etc. They may also stock t-shirts, baseball hats, or even boxes of salt water toffee with the name of the town emblazoned on them (all manufactured somewhere else). And then there are the "cute" little gift stores that sell all sorts of chachkas.
Outside of town there may be a a trailer park or RV campsite, or a water park, golf, mini-golf or go-kart course, boat dealerships, or a big box store like Walmart or Sam's club. Otherwise there are a smattering of establishments that rent or sell cars, bikes, jet skis, and fishing related items, and the like.
Most beach towns are also home to "local" restaurants, and drinking establishments. Don't expect five star, nor authentic ethnic restaurants. The majority of places to eat, are your typical fast food chain establishments, that serve traditional items like hamburgers, subways, steaks, and pizza. Yes there is fish. Rarely is it fresh. It's primarily deep fried served with a heap of fries on the side. These towns are relatively safe, with low levels of crime and nary a scintilla of graffiti or street art.
The houses, most of them sporting beach sounding names (incorporating types of birds, fish, planets, etc.), are usually designed and built for accommodating more than one family or a large swath of friends, with some erected on stilts, and with large decks that are great for entertaining, and with view of the beach or a dock that extends out to a sound or a bay. Others come with pools and palm trees, and large kitchens for group cooking activities. The furniture inside these abodes consists of large sofas, big beds, with pink and pastel color patterns. Otherwise there's lots of wicker furniture.
What's most noticeable, is that the majority of people who visit these towns are white, and most likely middle class and from the suburbs. Yes, occasionally African-American, Hispanic and Asian families will visit, but it is odd to see someone of these backgrounds outside of the service personnel. In short, there is little diversity.
So what? None of what I have described should sound surprising. After all the amenities that East Coast beach towns provide pump money into the local economy. For people looking for a relatively low stress vacation, beach towns may be perfect as they do a relatively good job catering to visitors' culture and their consumption patterns. Thus the amenities that are available, the types of products that are sold, and the kinds of things that people do for fun in these locations are pretty much what tourists who visit these towns want and expect.
In many respects, however, the towns reproduce the suburbs but with sand, sun and ocean scenery. Most people who enjoy the beach vacations probably also like all-inclusive resort vacations, and cruises for the same reasons they like beach towns. Again, each of these vacation options fulfill a role in our capitalist society.
On the other hand, Why might the beach town vacation be problematic? If you go on vacation, shouldn't you want a little adventure, to step outside your comfort zone? What about surprises, and taking risks? And I don't mean the airlines losing your bags. If the beach vacation is your only time to take an extended break, then it might be appropriate to consider why it makes sense for you and other options at your disposal.
Photo title: East Coast Beach Town
Photo credit: Jeffrey Ian Ross
https://jeffreyianross.com/wp-content/uploads/IMG_6812.jpg
378
640
Jeffrey Ian Ross
https://jeffreyianross.com/wp-content/uploads/jeffrey-ian-ross-logo-04.png
Jeffrey Ian Ross
2021-08-19 16:26:32
2022-11-13 19:18:58
Why do most East Coast beach towns in the United States seem the same?