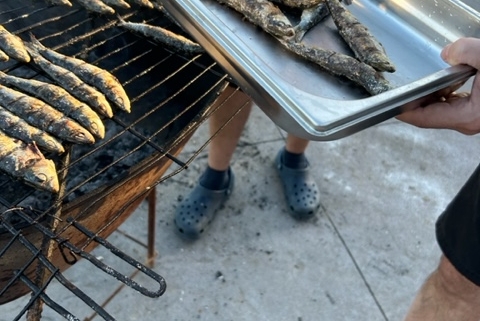 My Comida Vasca Adventure
When I try to master a subject or a skill, I often find that learning a complementary body of knowledge or task, enhances my understanding of the original subject. This form of cross-training, akin to my earlier experiences with developing my core expertises, proved valuable in the late spring of 2023 when I decided to explore the world of Basque cuisine.
Why Basque cooking?
Similar to my introduction to Japanese cooking (Washoku), I felt a push pull dynamic.
Having just completed my Bronze Certification in Japanese Cooking, I contemplated my next steps. My options included: work full-time, for two years, in a respected Japanese restaurant in order to earn my Silver Certification; travel to Japan, and take an intensive summer or year-long cooking course; or see if cross-training in a difference type of cuisine could expose me to new information and skills that would somehow improve my ability to cook Washoku.
But what type of food?
My family and I have travelled to and vacationed in Spain a handful of times, not only to Madrid, but to Catalonia, Majorca, and the Basque region too. There we've visited Bilbao and San Sebastian where we spent a week one Christmas. We have also visited Biarritz, just over the border in France.
And although I had some basic familiarity with Spanish cuisine, the intricacies of Basque cooking was a completely new experience for me. The reason? Despite several family members being adept at preparing delicious Spanish dishes, Basque cuisine remained uncharted territory.
In a nutshell venturing into Basque cooking and cuisine was probably my best next step in my culinary journey. The food and cuisine is highly regarded. There is a strong appreciation for high quality and natural ingredients, it's embedded in long standing culinary traditions, unique flavors and techniques, it employs a considerable amount of creativity, it's well documented pintxos culture is attractive, and it boasts numerous Michelin-starred restaurants.
So, all in all learning about Basque cuisine and how to cook selected dishes, just like my path to learning how to master how to cook Washoku, kind of made intuitive sense to me as my next step, even if it was temporary.
How did I go about doing this?
My approach to learning Comida Vasca, mirrored my initial haphazard foray into Japanese cooking. But if I was to summarize the steps, they would be as follows.
First, I bought a couple of appropriate Basque recipe books, selectively reading these works, and experimenting with the recipes inside.
Second, I complimented this activity, and attempted to expand my repertoire of dishes and techniques that I could master by searching the web for written and video recipes.
Third, I set up an Instagram account (@adventuresinbasquecooking) to document and share my Basque culinary endeavors.
Fourth, spending six weeks in the Basque region, especially Bilbao, provided an immersive experience, further catalyzing my culinary exploration.
Fifth, a developing friendship exposed me to local cuisine (like a sardine cookout), and to the amazing hospitality of people who welcomed us even though we were practically strangers to them.
Finally, despite my limited proficiency in Spanish, I enrolled in and completed some cooking classes at The Basque Culinary Institute in San Sebastian.
Stepping up my game
Over the past six months I have read deeper about Basque cuisine, eaten and prepared different typical Basque dishes.
While in the Basque region I ate/drank at numerous Basque restaurants, and pintxo bars.
In those contexts, I tried to deconstruct the ingredients, amounts, and sequencing of the dishes we ate. I also asked waiters, support staff and chefs about the component parts and steps that were used to prepare selective dishes. Over time I got better at discerning different flavors that were central to the cuisine.
I visited the markets where I could buy fresh produce, fish (lots of different types), seafood, pork, and meat with which to prepare the in dishes. Again, I had conversations with the people who assembled, cut, and sold this food (e.g., bonito del nor, bacalao a la vizcaína (Basque-style cod), chuleta (grilled pork), txuleta (steak), etc. ) about how they would prepare and serve this food.
Though this process I was able to discover many of the central features of Comida Vasca.
While still at the early stages of my Basque culinary journey, I view it not as a pivot but as a form of cross-training, allowing me to draw comparisons between Basque and Japanese cooking techniques.
Not only does this culinary exploration align with my broader philosophy and approach to enhancing expertise through exploring and understanding diverse and complementary knowledge domains, it's also interesting, exciting and fun.
https://jeffreyianross.com/wp-content/uploads/IMG_1879-rotated.jpg
640
480
Jeffrey Ian Ross
https://jeffreyianross.com/wp-content/uploads/jeffrey-ian-ross-logo-04.png
Jeffrey Ian Ross
2023-11-18 16:35:32
2023-11-19 13:46:11
My Comida Vasca Adventure