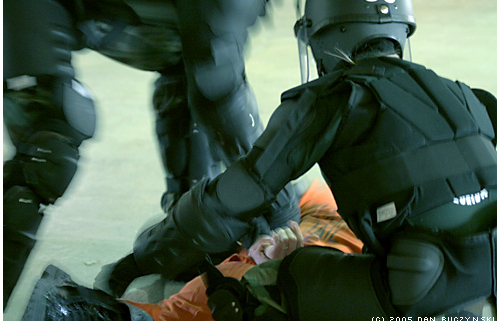 Making the case for the creation a national Correctional Officer Integrity Database
Over the past decade numerous incidents of police use of excessive and deadly force and deaths of unarmed citizens under questionable circumstances have captured the attention of the news media, politicians, experts, activists, and the general public. In many cases, when the news media and police oversight bodies look into the employment backgrounds of the officers involved in these incidents we notice a disturbing pattern.
Many of the officers have a significant history of public complaints and sometimes criminal charges. These are just the incidents that have been investigated. And while some of the reports have been substantiated, others were dismissed due to a lack of or poor evidence. What is more disturbing is that when some of these officers have been let go from their law enforcement jobs, without criminal charges (a daunting task that most progressive police chiefs and commissioners of police will freely admit), they have managed to secure gainful employment at another law enforcement agency.
Naturally a handful of scholars have examined this issue. One of them is Criminologist Phil Stinson at Bowling Green State University. Based on the concept of police crime, Stinson and colleagues used publicly available sources such as news media accounts and access to court records to develop the most comprehensive data base on police officer malfeasance in the United States.
Now, however, it is probably a great time to expand this approach to other job categories in the criminal justice system. One of the most important additional job classifications is that of correctional officers (COs).
Why is creating a correctional officer database important?
Approximately 392,600 people work as correctional officers in the United States. Most correctional officers are hard working honest individuals who have a challenging and difficult job to perform. And depending on the type of institution it can be a very stressful job too.
Correctional officers (COs) work at the city, county, state and federal level. They work in all types of carceral institutions including jails and prisons. Some are more dangerous than others.
But we also know that some correctional officers engage in a variety of deviance, not just directed toward inmates, but to fellow correctional officers, and to the correctional institution itself. Corruption, theft, and sexual and racial discrimination, among other kinds of deviance and illegalities by COs occasionally happens.
Once terminated, some correctional officers, just like police officers in similar situations, can find a job in a neighboring jurisdiction. Although correctional systems perform a background investigation, including a criminal records search, on prospective correctional officer candidates, some of this due diligence is more comprehensive than others. Moreover tracking down and understanding the nuances of previous job history can often be superficial.
A national data base would assist correctional systems minimize the hiring of inappropriate candidates, and provide an additional tracking mechanism to be used by states, counties and municipalities. And once this system was up and running then experts could compare if there was any relationships to the patterns we see with law enforcement officers who have been dismissed..
What is the best way to create a database on correctional officer database?
Since these kinds of initiatives are labor intensive they are difficult to start and to maintain.
They are often the purview of graduate student's dissertation topics where a considerable amount of free labor is donated in pursuit of earning one's degree. This also means that the candidate needs to be properly supervised by a faculty member who is adept and caring.
Alternatively, sometimes this project is best done through a crowd sourcing mechanism. Scholars, and jurisdictions that are interested in this initiative should come together to start planning how something like a national database on correctional officer deviance could be rolled out, what would be the important component parts, the resources that would be needed, and whom exactly will pony up the resources.
Photo credit
Photographer: macwagen
Title: gotcha
https://jeffreyianross.com/wp-content/uploads/12254935_9bc34e5eb7_o.jpg
335
500
Jeffrey Ian Ross
https://jeffreyianross.com/wp-content/uploads/jeffrey-ian-ross-logo-04.png
Jeffrey Ian Ross
2022-04-14 22:51:47
2022-04-14 22:51:47
Making the case for the creation a national Correctional Officer Integrity Database