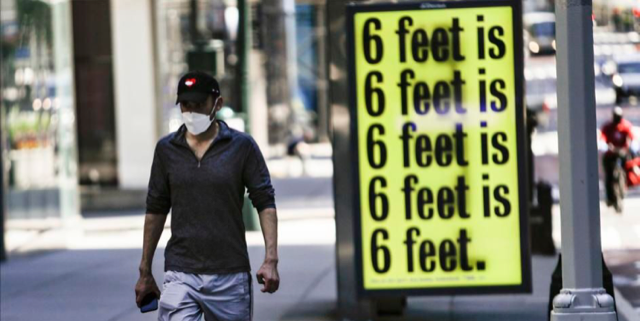 Street Culture, Social Distancing, Masks, and COVID-19
The appearance of COVID-19 in the United States and elsewhere has changed most people's lives. We've seen and experienced significant disruptions in many sectors in society from transportation to education, to public safety.
One of the most noticeable differences has been a decrease in the number of people who are either driving or walking. Some cities and neighborhoods have resembled ghost towns. For example, a month ago a colleague sent me a video of her walking through the streets of Venice. During this 4 minute clip she did not encounter a single person, something unheard of even on the rare occasions when it snows.
No doubt the main reason pedestrians stay away from the streets is fear of contracting the corona virus from someone else. Alternatively, jurisdictions passed stay at home/shelter in place orders with fines dispensed to people who were caught outside without a legitimate reason (i.e., purchasing food, medicine, getting some exercise and/or walking your dog).
But now that some of these orders have been partially or totally lifted, an inability or lack of desire by law enforcement to enforce the orders, the fact that the weather is nicer or more likely cabin fever, it is making it increasingly difficult for urban dwellers not to spend some time outside. And when you see people sunbathing in public parks and walking along the beach, it's tempting to join them. In my home town of Washington DC, for instance, this past weekend I observed numerous people hanging out on park benches in Dupont Circle, and nearby Logan Circle looked like party central. Few people, including the U.S. Park police, wore masks. Meanwhile up in Kalorama, Adams Morgan, and Mount Pleasant failure to wear a mask seemed an exception rather than the rule.
Even though the weather has improved, it does not mean that the virus has gone away and that you can still not get it from face to face contact with others. So walking around unprotected does not seem the most prudent way to combat a lethal killer.
To provide a measure of personal protection from being infected by the virus, the public has been advised to social distance and some medical experts have also suggested that they wear masks. This last approach has been selectively adopted by some retail establishments, transportation modalities, and cities. Some jurisdictions have even closed a select number of city streets, thereby creating wider sidewalks and enabling greater social distancing. Most cities, however, have not taken this approach.
Some people have embraced face mask culture. They have moved beyond wearing the drab blue surgical masks, or black bicycle ones, and either bought or created their own unique masks that showcase their creativeness. Meanwhile, well-meaning social commentators have opined about the increased risk to personal safety that young African-American males might encounter if they wear masks in public.
But still there are lots of other people who ignore this advice and refuse to wear masks. In my neighborhood there is no one demographic who fail to wear masks. In the middle ground some bike riders wear masks and others who don't. There are some joggers who do and those that don't. Then again there are people who walk the street without their masks on, but dangling from their neck.
People walking along the street without masks and who fail to keep at least six feet away do so for a variety of reasons. But now that we have a pandemic and numerous people fail to wear masks, walking along city streets is akin to taking your life in your own hands. In some respects it's like walking through a neighborhood, where you know almost everyone is packing a gun. Meanwhile there is a serious game of chicken that you are forced to play walking along the city street. Few if any of the non-mask wearing public will inconvenience themselves by moving out of the way.
This poses a problem to the people who are wearing masks and engage in social distancing. What should the mask wearing public do every time they see someone without a mask and/ or coming closer than six feet to them?
They could give everyone they see not wearing a mask the evil eye. Alternatively they could cough on them. Or they could wear a shirt that says "I have COVID-19, stay away," or a mask that says something similar. Or they could verbally confront the non-mask wearers by asking them where their mask is, and giving them a stern lecture, effectively joining a small army of "the mask police."
Unfortunately these approaches are frequently futile, because so many of the people who are not wearing a mask will either ignore you, or might even tell you to take a hike. At its worst you may be assaulted as has been the case when NYPD officers recently confronted someone without a mask, or you may be killed similar to the incident where a security guard did the same at a Family Dollar store in Flint, Michigan last week.
Common sense suggests avoiding the nonmasked public and those who fail to social distance as much as possible. This could mean trying to limit the number of times you need to be out in public. Alternatively you need to walk down the street, zig zagging from one the side of the side walk to the other and when necessary off the sidewalk and into the street. Unfortunately this also puts you into a dangerous situation, where you might be hit by a car.
Masked or not masked during this time of COVID-19 everyone is a potential killer, and social distancing if not practiced by others is something that you need to do.
https://jeffreyianross.com/wp-content/uploads/Screenshot-2020-05-18-at-10.29.45-PM-2.png
430
640
Jeffrey Ian Ross
https://jeffreyianross.com/wp-content/uploads/jeffrey-ian-ross-logo-04.png
Jeffrey Ian Ross
2020-05-19 03:52:34
2021-06-08 15:48:23
Street Culture, Social Distancing, Masks, and COVID-19