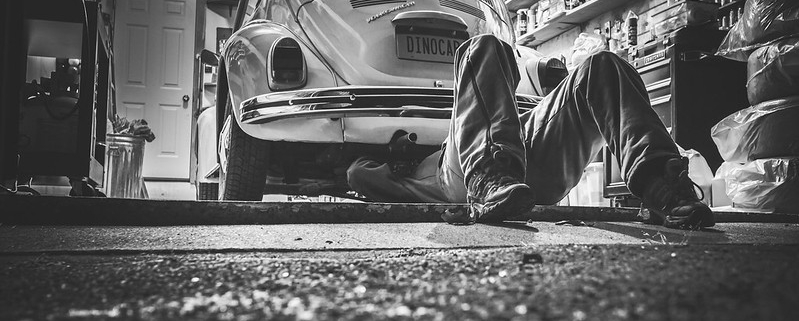 In Praise of Back Alley Mechanics
In bustling urban environments various businesses exist, each selecting the locations where to operate based on factors like rent, profitability, and access to customers, suppliers, workers etc..
In addition to the more well-known and visible commercial entities (such as retail establishments), numerous service and manufacturing businesses operate in less conspicuous areas—industrial/office parks, suburbs, on the web, and back alleys. Although they are less noticeable, these businesses play a crucial role in providing for and servicing the needs of their customers.
One interesting and colorful subset of these businesses are back alley mechanics. This sector of the economy, is often located behind buildings and down laneways in ethnic neighborhoods (e.g., Chinatown, Little Italy), or "the hood."
They are typically run by sole operators, often with gruff demeanors, who operate in a no frills and more informal manner, and provide licensed and sometimes unlicensed automotive repair services.
Back alley mechanics also frequently specialize in repairing particular makes of cars (e.g., European, Japanese, Scandinavian), or offering unique services like autobody, battery, spring, tire, etc. repair and replacement.
Unlike many car repair venues where customers may only speak with the service representative or manager, or owner of the business, and due to numerous factors, such as the size and make-up of their clientele, back alley mechanics can provide a more personalized experience, building closer relationships with their clients, getting the job done right the first time, and offering shorter wait times.
Moreover, back alley mechanics often accommodate unique requests (like installing customer supplied parts and making modifications to them) and work on older or less common vehicle models that larger shops might neglect.
Most importantly they usually charge lower rates compared to established standalone auto repair shops, including those located at corner gas stations and part of car dealerships.
Altogether many back alley mechanics may develop sterling reputations within their local communities, fostering a stream of loyal customers through repeat business and word-of-mouth recommendations.
That being said, back alley mechanics, have some potential disadvantages.
Unlike established auto repair shops, some back alley mechanics are difficult to locate. For one reason or another they may not show up on your GPS.
Also the people working on your car might lack formal training, certifications, and be unlicensed, risking subpar work and incomplete repairs.
Further, some back ally mechanics may be skittish on providing warranties, which means that if post-repair issues come up it may be a hassle for the customer. This issue comes hand in glove as many of them operate a cash-only based business which contributes to their lower rates, but makes also it difficult to resolve disputes if you have one with them.
Sometimes the back ally mechanics do not have proper tools, diagnostic equipment, and quality replacement parts that if installed could compromise the operability, safety and longevity of your vehicle.
Lastly, depending on the jurisdiction they are located in, unlicensed mechanics could run afoul of legal regulations, potentially impacting your car insurance coverage.
This is why it's important to realize that while back alley mechanics offer a unique and sometimes an advantageous option for automotive repairs, the potential drawbacks must be considered.
Like any thoughtful consumer, whether you choose to service your car at the dealership where you once bought it, or from a back alley mechanic, it's essential to carefully consider your specific circumstances and the reputation of the mechanic before entrusting your vehicle to their care.
Dedicated to Tak, one of the best back alley mechanics that ever operated in Toronto
Photo:
Title Mechanic
SOURCE: www.gratisography.com/
https://jeffreyianross.com/wp-content/uploads/14168867527_4f1c88e421_c.jpg
533
799
Jeffrey Ian Ross
https://jeffreyianross.com/wp-content/uploads/jeffrey-ian-ross-logo-04.png
Jeffrey Ian Ross
2023-09-30 15:26:44
2023-09-30 15:26:44
In Praise of Back Alley Mechanics