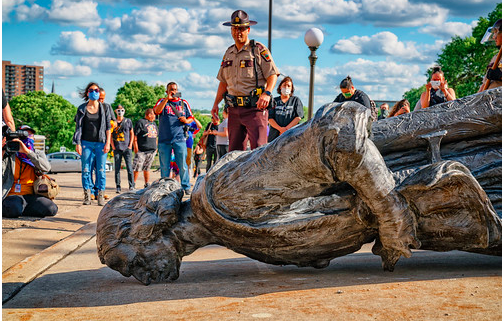 @ Tony Webster
Time to remove offensive memorials, monuments, and statues
From buildings, to parks, to museums, cities have erected monuments, statues, and memorials in public spaces.
These structures vary in size; they can be as big as a building, or as small as a plaque.
They force people to interchangeably honor, celebrate, commemorate, and/or remember incidents and people who were at one point in time deemed important in the history of that place and space. But history marches on, people change, and so does the culture.
There is no universal law that suggests that public statutes and memorials must remain in perpetuity where they were erected, or exist at all. Objects placed in our public spaces can change with time, citizen preferences, economic conditions, and cultural shifts. In fact, most cities in post industrialized democracies recognize this situation. That is why there is usually a branch of government, such as a department of public works, that overseas public monuments, and sometimes there is a committee that represents different constituencies that reviews these sorts of things. The process, however, gets into trouble when it is out of sync with contemporary culture and current history.
At the center of the current controversy facing our nation and others, are statutes of racists, colonizers, individuals who led campaigns of genocide, and symbols thereof (e.g., the confederate flag).
The recent (May/June 2020) protests against the killing of George Floyd by a police officer in Minneapolis highlighted the pervasive racial injustice that has persisted throughout the 200 year history of the United States. This sentiment has prompted an upsurge in graffiti and street art placed on monuments, and in some cases the tearing down of controversial statutes throughout the world. The result has been copious news and social media attention and city, state, and federal governments spending lots of resources (either abating the graffiti and street art, or paying law enforcement salaries to protect the memorials).
Opposition to these statues and memorials did not start in the last three weeks. This process has been being playing out since the erection of the monuments. Opposition ebbs and flows, due to lots of factors including burn out by different political actors.
The reality of the day, however, is that we have come to a crescendo of opposition and social condemnation of the flagrant display that seems to celebrate the worst individuals and chapters in our collective history. Committees that review requests for erecting and mothballing statutes etc. and city councils (and county executives) can wait no longer. It is time for them to act, and to act fast before we recreate the storming of the bastille scenarios we have recently witnessed, where activists, bystanders, and public safety get hurt in the melees that are appearing in these contexts.
https://jeffreyianross.com/wp-content/uploads/Screen-Shot-2020-07-02-at-11.36.53-AM.png
335
504
Jeffrey Ian Ross
https://jeffreyianross.com/wp-content/uploads/jeffrey-ian-ross-logo-04.png
Jeffrey Ian Ross
2020-07-02 15:41:08
2021-08-27 20:43:47
Time to remove offensive memorials, monuments, and statues